If you're a bird watcher, you know that Massachusetts is home to some pretty incredible geese. We take a look at the different types of geese that can be found in the state, as well as some of the best places to see them.
What Geese Are in Massachusetts?
There are four goose species and two swan species living in the state of Massachusetts.
Canada Goose
Snow Goose
Cackling Goose
Brant
Swans living in Massachusetts include Tundra Swan and Mute Swan.

Canada Goose (Branta canadensis)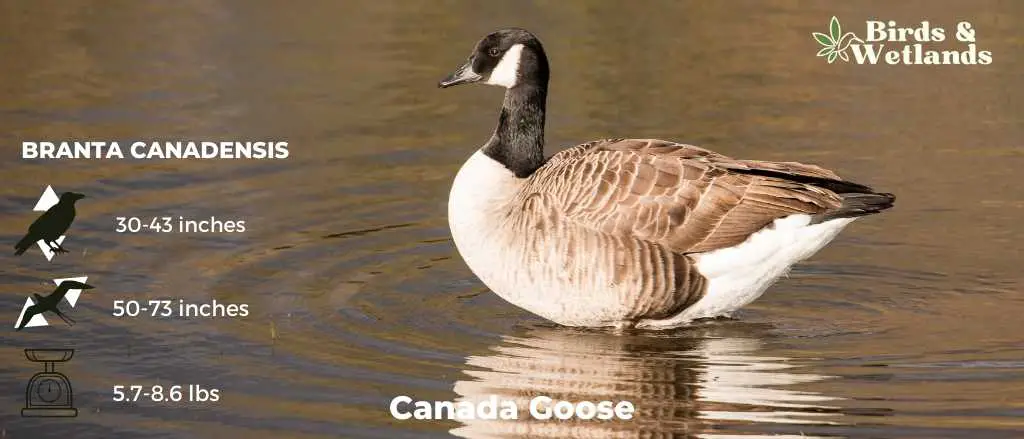 The Canada goose is the most common goose species in North America. These birds are easily recognizable thanks to their black heads and necks, white chins, and brown bodies.
Scientific Name: Branta canadensis
Height: 75 to 110 cm (30 to 43 in)
Wingspan: 127–185 cm (50–73 in)
Weight: Usual: 2.6–6.5 kg (5.7–14.3 lb); Average: 3.9 kg (8.6 lb)
Canada Goose Description
Canada goose is a large water bird that has a black head and neck, white cheeks, and a brownish-gray body. They have webbed feet and can be seen on lakes, ponds, and rivers throughout the United States in summer.
Canada Goose Sound
Canada Goose Habitat & Range
Their habitat includes grasslands, marshes, open woodland areas, and agricultural fields including cornfields where they eat the seeds on the ground.
They are often found near lakes, ponds, rivers, marshes, and open fields where they feed on grasses, aquatic plants, small animals, insects, and grain crops.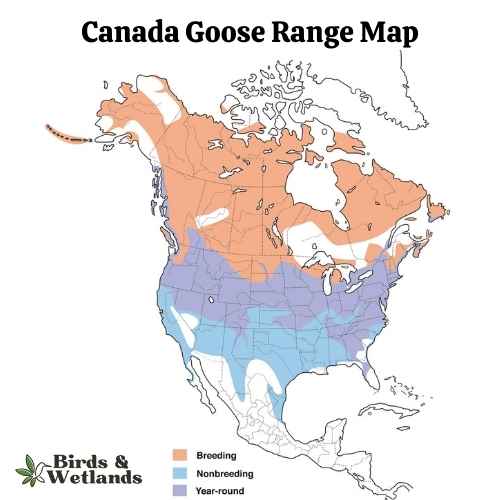 Canada Goose Diet
Canada geese are popular game birds; they are also used for their feathers and leather. Their diet consists mainly of plant material including grasses and grains, but occasionally insect larvae and worms.
Canada Goose Nesting
Canada geese typically mate for life and often return to the same nesting site year after year. These birds build their nests on the ground, near water sources such as lakes or ponds.
During the nesting season, female Canada geese will lay between three and eight eggs. Once the eggs hatch, the goslings will stay with their parents until they are ready to migrate in the autumn.
Snow Goose (Anser caerulescens)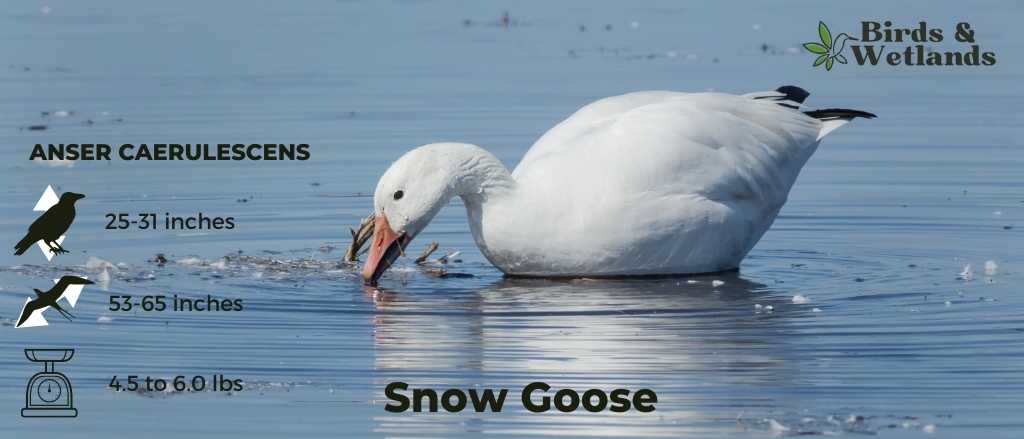 The Snow Goose is one of the most abundant geese in North America, and has been hunted heavily for its meat by humans for centuries; its population has declined significantly since the 1960s due to hunting pressure and habitat loss caused by human activity. These birds are also known to migrate long distances, often flying over 2000 miles in a single journey! They are very social animals, and can be found in flocks of thousands during migration season.
Scientific Name: Anser caerulescens
Height: 64 to 79 cm (25 to 31 in.)
Wingspan: 135 to 165 cm (53 to 65 in)
Weight: 2.05 to 2.7 kg (4.5 to 6.0 lb)
Snow Goose Description
The snow goose is a large waterfowl that has white plumage with black wingtips and is a species of goose native to North America, the tundra, and grasslands. It has a black neck, white cheeks, and a pale gray belly. It also has a black bill with a yellow tip. Its feet are orange to dull greenish yellow. They are large birds, averaging between 3.2-4.9 kg and often exhibit black bars on their wings and a white patch on the rump.
Snow Goose Sound
Snow Goose Habitat & Range
These birds are capable of flying for long distances without getting rest. It is one of the few species that can fly non-stop for 3,000 miles without stopping for rest or food.
They are mostly found in the Arctic areas, including North America, Greenland and Canada, where their numbers have increased in recent years due to conservation efforts to protect them from extinction.
They migrate south during the winter months when food supplies are scarce.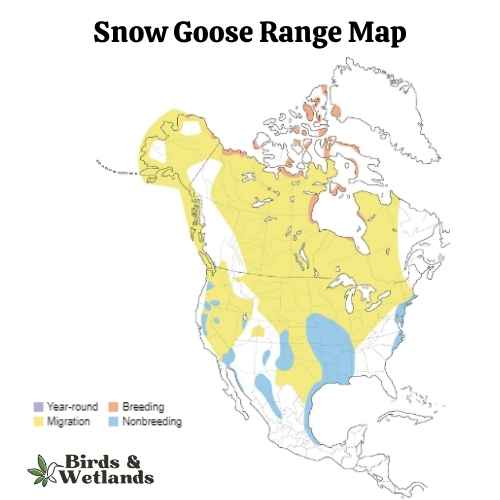 Snow Goose Diet
They have been known to eat a variety of foods including seeds, roots and tubers as well as insects, snails and small fish. The Snow Goose is one of the few species of geese that have been observed using tools to help them catch prey. They have been seen using sticks or stones as weapons or shields when hunting for food!
They can also dive underwater to get food which means they don't need to eat on land all the time like other birds do (they can just swim around until they find something they like).
Snow Goose Nesting
Snow geese are known to mate for life. A male will typically find two or three females depending on his age and experience level as a hunter-gatherer type personality. A female may lay up to 14 eggs at once but usually, only 1 or 2 survive because of predators such as other birds like raptors and even humans who hunt them down during hunting season!
Cackling Goose (Branta hutchinsii)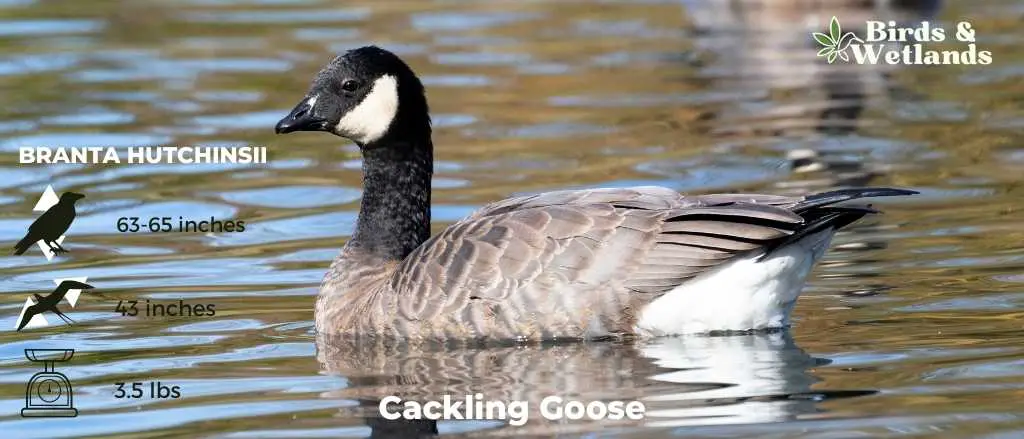 Once considered part of the Canada Goose species, this has now been classified as a distinct species in its own right. It's high pitched voice distinguishes it from the Canada goose which has a much lower pitched honk.
Scientific Name: Branta hutchinsii
Height: 24.8–25.6 in (63–65 cm)
Wingspan: 43 inches
Weight: 3.5 lbs
Cackling Goose Description
Very similar to the Canada Goose, but they have rounder heads and shorter bills. On the dark coast the birds are darker than those found on the east coast. The head is black with a white chin or neck strap, with a greyish brown body and black legs, feet and bill.
Listen to Cackling Goose
Cackling Goose Habitat and Range
The Cackling Goose's breeding habitat is wet meadows near lakes or ponds where they feed on grasses, sedges, and other plants. They nest on the ground in areas that are often flooded by water during the spring months.
In the late summer months when the breeding season has ended, cackling geese will migrate southward towards warmer climates in order to escape cold weather conditions found further north.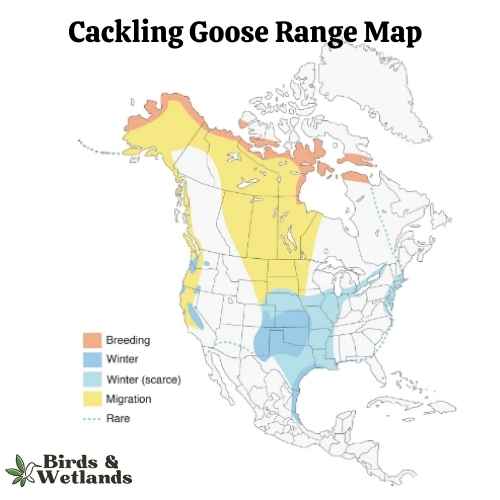 Cackling Goose Diet
Cackling Geese are omnivores which means they eat both plants as well as seeds, roots, small animals such as insects or worms, and grasses during the summer months, and crustaceans such as clams or snails. However, their main source of food comes from grazing on grasses along marshes or fields which can be found near large bodies of water such as lakes or rivers.
Cackling Goose Nesting
Only females incubate the eggs (laying between 2-8) and the goslings leave the nest within 24 hours, and fledge at 6 weeks, though they stay with the family for migration.
Brant (Branta bernicla)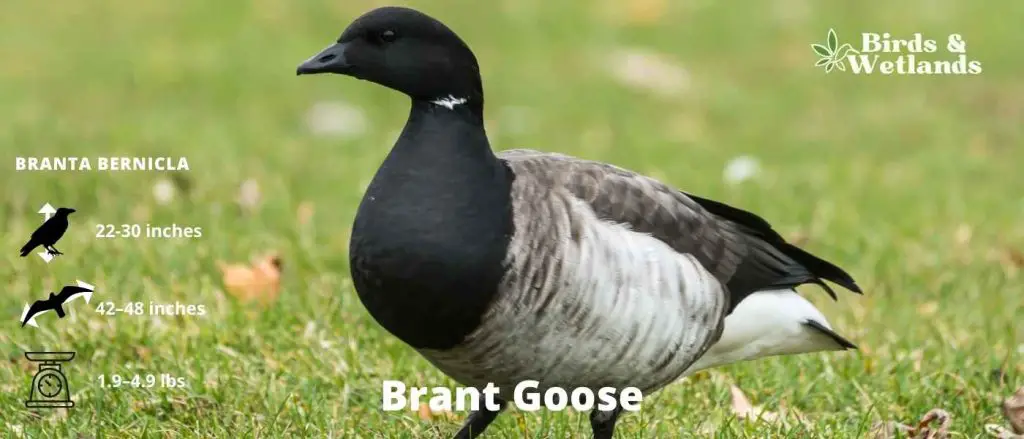 The black brant is the smallest and darkest member of the " true geese " (i.e., those belonging to the genus Branta ), with a body length of 50–60 cm (20–24 in). It has a short, stout bill and legs, and is slightly smaller than the Canada goose. The black brant is a gregarious bird, forming large flocks outside the breeding season. It feeds on grasses and other aquatic plants, and will uproot crops if its numbers are high enough.
Scientific Name: Branta bernicla
Height: 55–66 cm (22–26 in)
Wingspan: 106–121 cm (42–48 in)
Weight: 0.88–2.2 kg (1.9–4.9 lb)
Brant Description
The Brant is similar to the Canada Goose with a black head and neck with a white neck collar, but is smaller with a shorter neck, with dark bellies. There are several subspecies which have different coloration on the bellies and sides, known tas the Black Brant or the Pacific Brant, the Pale-bellied Brant or Atlantic Brant and the dark bellied brant breeds of Europe.
Listen to Brant
Brant Habitat & Range
The brant goose is a migratory bird, wintering in southern Europe, Africa, and western Asia. It is an occasional vagrant to North America, where it is most often seen in eastern Canada and the northeastern United States.
It can be found in North America and spends most of its time in coastal waters. Brant migrate from their wintering grounds back to their breeding grounds each year.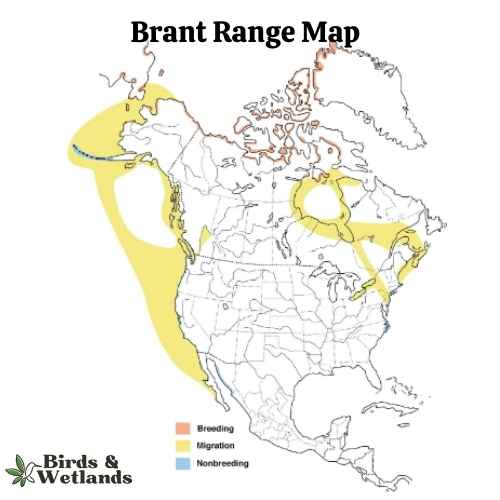 Brant Diet
Most brant geese feed only on a single species of seagrass, known as eelgrass. They also eat sea lettuce, but their primary food source is eelgrass. They prefer eating at night because it's easier to spot prey when it's dark out (they have poor eyesight). Brant prefers living near bodies of water such as lakes or oceans because they need water to survive – without it, they would die within days.
Brant Nesting
Females lay 3-5 eggs in a nest of moss and down.
Are There Any Resident Flocks of Geese in Massachusetts?
There are indeed resident flocks of geese in the state. However, these flocks are much smaller than the migrating populations that pass through in the spring and fall.
The most common goose species found in Massachusetts is the Canada goose, which can be seen in both urban and rural areas.
Hunting Geese in Massachusetts
In order to hunt geese in Massachusetts, you need to purchase a state waterfowl stamp and register with the Harvest Information Program (HIP).
ou can register for HIP by taking the HIP survey. The state waterfowl stamp will automatically register you for HIP.
Can You Shoot a Goose in Massachusetts?
Yes, you can shoot geese in Massachusetts, but there are some restrictions in place.
For example, you can only use a shotgun no larger than 10 gauge and it must be fired from the shoulder.
Additionally, shotguns that are capable of holding more than 3 shells must be plugged with a one-piece filler that limits the gun's total capacity to 3 shells. This filler cannot be removed without disassembling the gun.
Finally, waterfowl hunters must use non-toxic shots while hunting ducks, geese, sea ducks, and coot. Lead shot is not allowed while hunting these birds.
Here's Massachusetts's daily bag and possession limits on geese:
Regular Goose (except Snow & Blue)
Dates
Daily Bag
Possession
Berkshire
Oct. 10 – Nov. 12
1
3
Central
Oct. 10 – Nov. 26
Dec. 27 – Jan. 16
2
6
Coastal
Oct. 15 – Oct. 22
Dec. 1 – Jan. 31
2
6
Early Canada Goose (Statewide)
| | | |
| --- | --- | --- |
| Dates | Daily Bag | Possession |
| Sep. 2 – Sep. 24 | 15 | 45 |
Late Canada Goose
| | | | |
| --- | --- | --- | --- |
| | Dates | Daily Bag | Possession |
| Berkshire | Dec. 15 – Feb. 15 | 5 | 15 |
| Central | Jan. 18 – Feb. 15 | 5 | 15 |
| Northern portion of Coastal Zone | Feb. 1 – Feb. 15 | 5 | 15 |
Snow & Blue Goose
Dates
Daily Bag
Possession
Berkshire
Oct. 10 – Nov. 26
Dec. 19 – Jan. 7
15
45
Central
Oct. 10 – Nov. 26
Dec. 27 – Jan. 16
15
45
Coastal
Oct. 15 – Oct. 22
Dec. 1 – Jan. 31
15
45
Where Can I Hunt Geese in Massachusetts?
Waterfowl hunting grounds in Massachusetts are divided into three hunting zones – Berkshire, Central and Coastal. You can check the map of waterfowl zones in Massachusetts here.
Conclusion on Geese in Massachusetts
If you're ever in Massachusetts and you want to see some amazing wildlife, be sure to keep your eyes peeled for geese and swans! There's a good chance you'll see at least one of these beautiful creatures.