If you're living in South Carolina, you may have noticed an increase in the geese population over the past few years. While these birds can be beautiful to see, they can also be quite troublesome. In this guide, we will discuss everything you need to know about geese in South Carolina.
What kind of geese species are in South Carolina?
There are three types of goose in South Carolina:
Canada Goose
Cackling Goose
Canada Goose (Branta canadensis)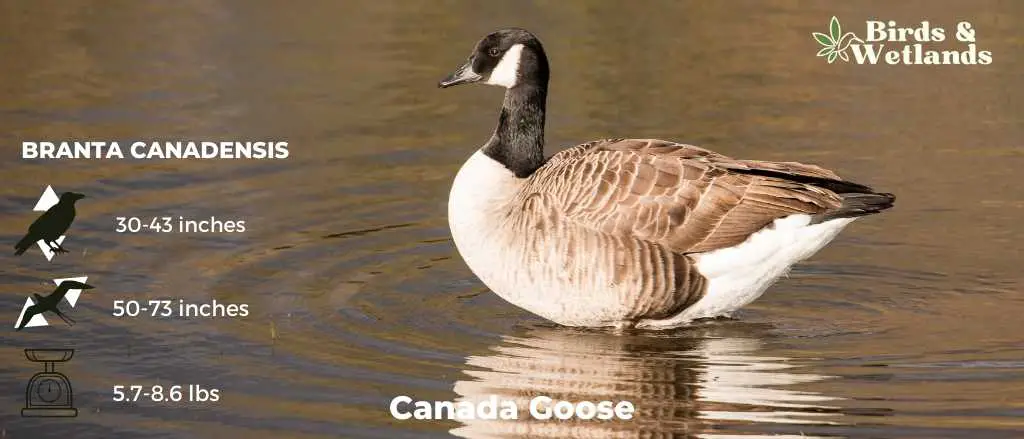 The Canada goose is the most common goose species in North America. These birds are easily recognizable thanks to their black heads and necks, white chins, and brown bodies.
Scientific Name: Branta canadensis
Height: 75 to 110 cm (30 to 43 in)
Wingspan: 127–185 cm (50–73 in)
Weight: Usual: 2.6–6.5 kg (5.7–14.3 lb); Average: 3.9 kg (8.6 lb)
Canada Goose Description
Canada goose is a large water bird that has a black head and neck, white cheeks, and a brownish-gray body. They have webbed feet and can be seen on lakes, ponds, and rivers throughout the United States in summer.
Canada Goose Sound
Canada Goose Habitat & Range
Their habitat includes grasslands, marshes, open woodland areas, and agricultural fields including cornfields where they eat the seeds on the ground.
They are often found near lakes, ponds, rivers, marshes, and open fields where they feed on grasses, aquatic plants, small animals, insects, and grain crops.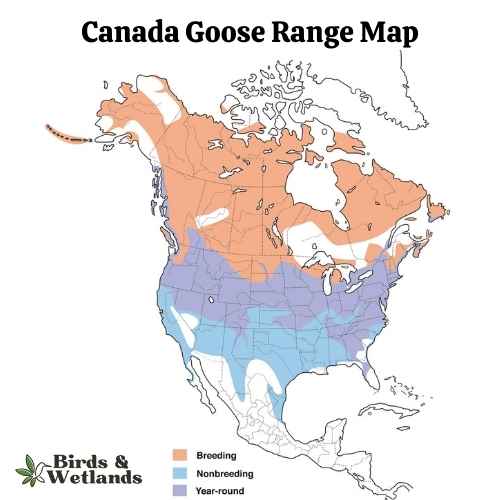 Canada Goose Diet
Canada geese are popular game birds; they are also used for their feathers and leather. Their diet consists mainly of plant material including grasses and grains, but occasionally insect larvae and worms.
Canada Goose Nesting
Canada geese typically mate for life and often return to the same nesting site year after year. These birds build their nests on the ground, near water sources such as lakes or ponds.
During the nesting season, female Canada geese will lay between three and eight eggs. Once the eggs hatch, the goslings will stay with their parents until they are ready to migrate in the autumn.
Cackling Goose (Branta hutchinsii)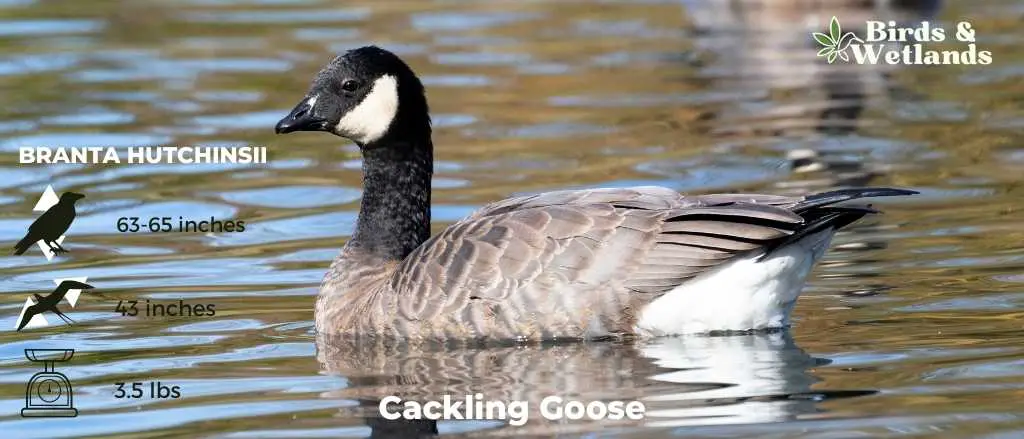 Once considered part of the Canada Goose species, this has now been classified as a distinct species in its own right. It's high pitched voice distinguishes it from the Canada goose which has a much lower pitched honk.
Scientific Name: Branta hutchinsii
Height: 24.8–25.6 in (63–65 cm)
Wingspan: 43 inches
Weight: 3.5 lbs
Cackling Goose Description
Very similar to the Canada Goose, but they have rounder heads and shorter bills. On the dark coast the birds are darker than those found on the east coast. The head is black with a white chin or neck strap, with a greyish brown body and black legs, feet and bill.
Listen to Cackling Goose
Cackling Goose Habitat and Range
The Cackling Goose's breeding habitat is wet meadows near lakes or ponds where they feed on grasses, sedges, and other plants. They nest on the ground in areas that are often flooded by water during the spring months.
In the late summer months when the breeding season has ended, cackling geese will migrate southward towards warmer climates in order to escape cold weather conditions found further north.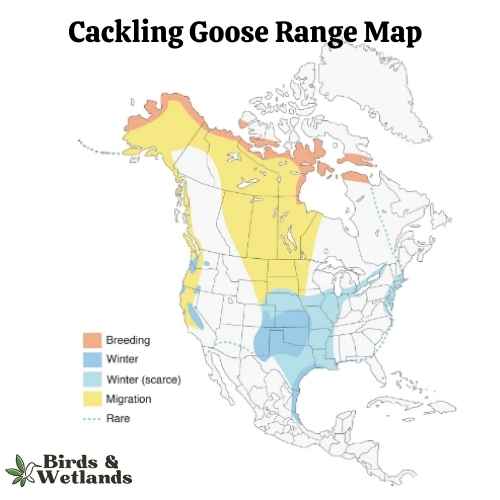 Cackling Goose Diet
Cackling Geese are omnivores which means they eat both plants as well as seeds, roots, small animals such as insects or worms, and grasses during the summer months, and crustaceans such as clams or snails. However, their main source of food comes from grazing on grasses along marshes or fields which can be found near large bodies of water such as lakes or rivers.
Cackling Goose Nesting
Only females incubate the eggs (laying between 2-8) and the goslings leave the nest within 24 hours, and fledge at 6 weeks, though they stay with the family for migration.
Snow Goose (Anser caerulescens)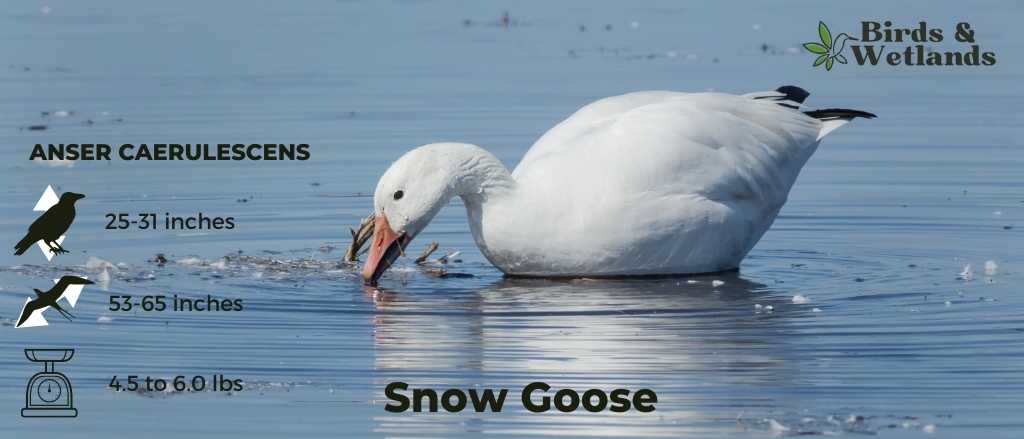 The Snow Goose is one of the most abundant geese in North America, and has been hunted heavily for its meat by humans for centuries; its population has declined significantly since the 1960s due to hunting pressure and habitat loss caused by human activity. These birds are also known to migrate long distances, often flying over 2000 miles in a single journey! They are very social animals, and can be found in flocks of thousands during migration season.
Scientific Name: Anser caerulescens
Height: 64 to 79 cm (25 to 31 in.)
Wingspan: 135 to 165 cm (53 to 65 in)
Weight: 2.05 to 2.7 kg (4.5 to 6.0 lb)
Snow Goose Description
The snow goose is a large waterfowl that has white plumage with black wingtips and is a species of goose native to North America, the tundra, and grasslands. It has a black neck, white cheeks, and a pale gray belly. It also has a black bill with a yellow tip. Its feet are orange to dull greenish yellow. They are large birds, averaging between 3.2-4.9 kg and often exhibit black bars on their wings and a white patch on the rump.
Snow Goose Sound
Snow Goose Habitat & Range
These birds are capable of flying for long distances without getting rest. It is one of the few species that can fly non-stop for 3,000 miles without stopping for rest or food.
They are mostly found in the Arctic areas, including North America, Greenland and Canada, where their numbers have increased in recent years due to conservation efforts to protect them from extinction.
They migrate south during the winter months when food supplies are scarce.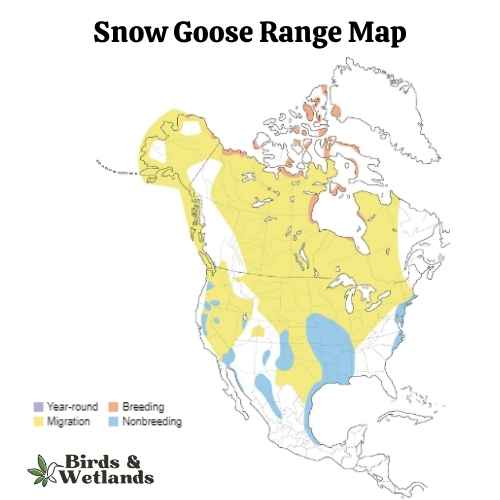 Snow Goose Diet
They have been known to eat a variety of foods including seeds, roots and tubers as well as insects, snails and small fish. The Snow Goose is one of the few species of geese that have been observed using tools to help them catch prey. They have been seen using sticks or stones as weapons or shields when hunting for food!
They can also dive underwater to get food which means they don't need to eat on land all the time like other birds do (they can just swim around until they find something they like).
Snow Goose Nesting
Snow geese are known to mate for life. A male will typically find two or three females depending on his age and experience level as a hunter-gatherer type personality. A female may lay up to 14 eggs at once but usually, only 1 or 2 survive because of predators such as other birds like raptors and even humans who hunt them down during hunting season!
Are There Resident Geese Flocks in South Carolina?
Yes, there are resident Canada geese who live all year round in South Carolina, it's estimated this population is about 50,000. There are resident Canadian geese all across the state, but the areas with the highest concentrations of these birds include the Upper Coastal Plain, Piedmont, and the Foothills.
There are also two groups of Canada geese who migrate hear each year in the winter months. Canada goose populations have really grown in recent years and some estimations are that they are growing at a rate of 10% year on year.
Whilst these majestic creatures are a delight to see, they can become a nuisance as their overpopulation drains natural resources. These large birds are attracted by the large lakes (for the aquatic vegetation) and golf courses, as well as the farm fields in the state. Geese can also be aggressive to humans if you go near their nests.
There are no natural predators to these large flocks which is allowing their populations to climb, however, this can lead to issues with goose droppings (they poop up to 2lb a day!) and as they overfeed in grain fields. golf courses and grassy areas, destroying the crops.
The wildlife service will give you a permit to remove a nest site from your property if they are causing a nuisance. They may be attracted to your garden if you have a small pond or water source present, read our guide to getting rid of geese of your property.
Are geese protected in South Carolina?
Yes, across America all native waterfowl like ducks and geese are protected by the Migratory bird treaty act. During the breeding season, it is unlawful to hunt geese.
Can You Hunt Geese in South Carolina?
Yes, hunting is permitted during the hunting season as long as you have a valid permit and licence and stick to the bag limits and possession limits which can be found here.