Geese are common sights on lakes, ponds, and golf courses in Mississippi. American Geese can be beautiful creatures, but they can also be quite dangerous. In this guide, we will provide some fun facts about Mississippi geese and offer advice on how to deal with them if they become a nuisance.
What Geese Species Are Found in Mississippi
There are four main types of geese found in Mississippi:
Snow Goose
Greater White-fronted Goose
Canada Goose
In recent decades, the resident geese populations have dramatically increased in the Mississippi delta and across the region, with now over 30,000 residents. Wildlife biologists believe this is due to habitat (manmade water bodies) and climate change. Whilst they previously migrated south to avoid cold weather, they have now adapted to that and their migration now is more in search of food.
Closeby, the geese species in Tennessee and geese in Arkansas are similar, whilst there are more types of Geese in Alabama.
Snow Goose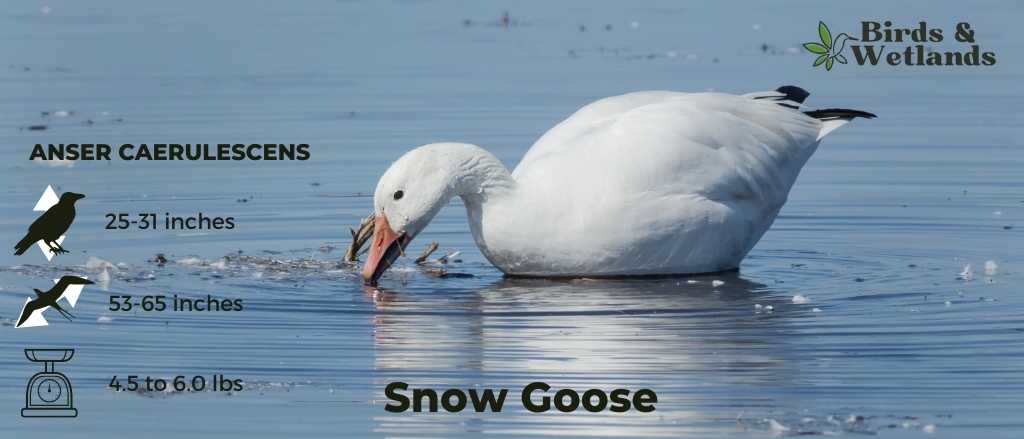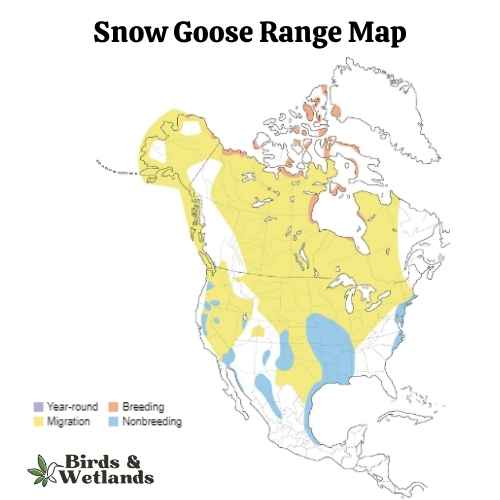 Snow Goose Sound
Scientific Name: Anser caerulescens
Length: 25 to 31 in
Wingspan: 53 to 65 in
Weight: 4.5 to 6.0
The Snow Goose is a large species of waterfowl known for its vibrant white plumage and significant migratory flights.
Appearance: True to their name, Snow Geese are predominantly white with black wingtips. They also have a pink bill, pink legs and feet. A color morph, known as the "Blue Goose," displays a bluish-gray body with a white head, but is considered the same species.
Diet: Snow Geese primarily feed on plant matter, such as grasses, sedges, and small grains. They can often be seen in large flocks foraging in fields and marshes, and during migration and winter, they can cause considerable damage to agricultural fields due to their feeding habits.
Reproduction: Snow Geese typically nest on the tundra, near water bodies. The female builds the nest and lays a clutch of about 3 to 5 eggs, which she incubates alone for approximately three weeks. Once hatched, the goslings can feed themselves but stay with their parents for protection until they can fly.
Greater White-fronted Goose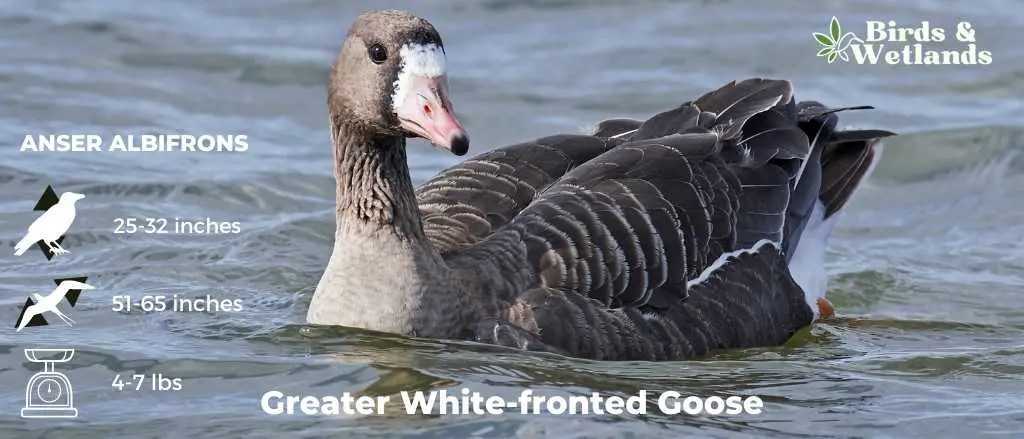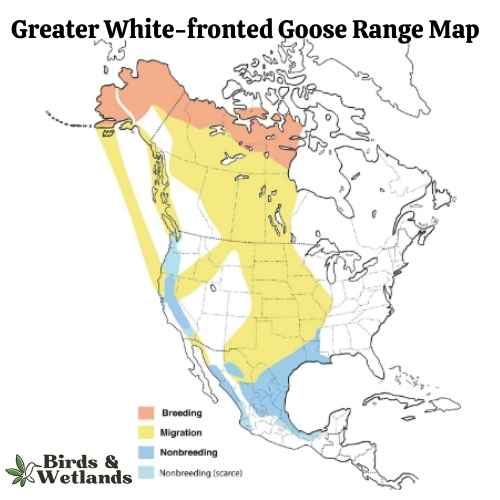 Listen
Scientific Name: Anser albifrons
Length: 25 to 31 in
Wingspan: 53 to 66 in
Weight: 3.3 to 6.6
The Greater White-fronted Goose is a medium to large waterfowl species, widely distributed across the Northern Hemisphere, particularly in North America.
Appearance: As the name suggests, these geese display a prominent white patch at the base of their bill. Their bodies are gray-brown, and their breasts are often marked with dark blotches. They possess a pinkish bill and orange legs and feet.
Diet: The Greater White-fronted Goose is a herbivore and feeds mainly on plant material. Its diet consists of grasses, sedges, grains, and berries. When wintering, these geese can often be found in agricultural fields, feasting on leftover grains and crops.
Reproduction: This species nests on the ground, often in areas with good visibility such as slopes or ridges. The female lays a clutch of 4 to 5 eggs, which she incubates for nearly a month. Once hatched, the young ones are taken care of by both parents until they are able to fly.
Ross's Goose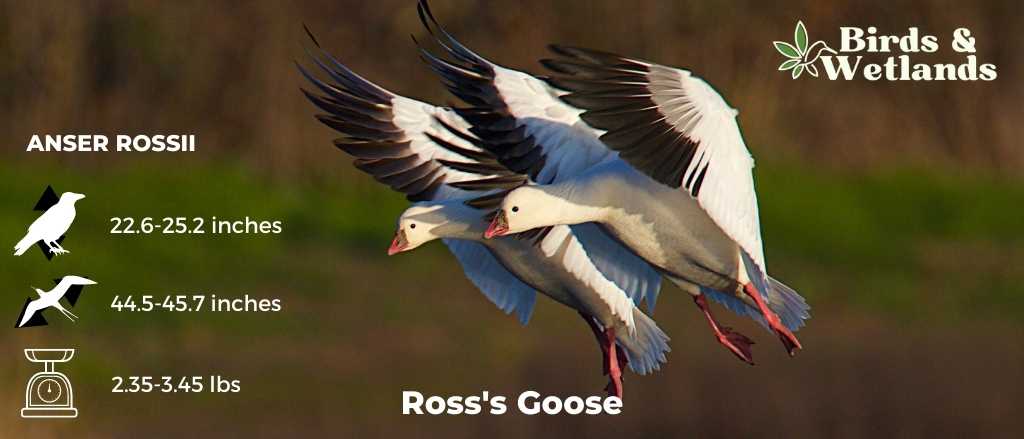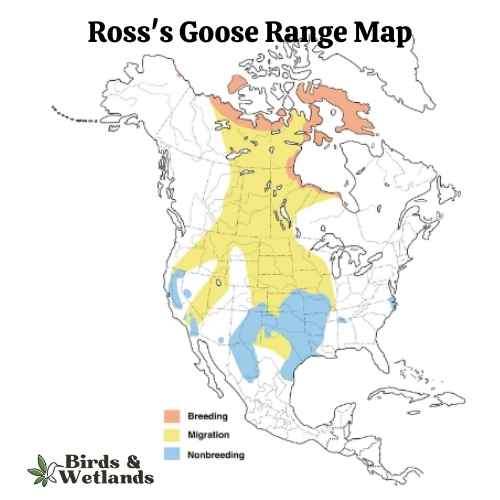 Listen
Scientific Name: Anser rossii
Length: 23.2-25.2
Wingspan: 44.5-45.7 in
Weight:42.3-55.3 oz
The Ross's Goose is a small species of waterfowl often found in North America's tundra and wetland habitats.
Appearance: Known for its compact size, the Ross's Goose is mostly white with black wingtips. It features a short, stubby bill and a rounded head. One key identifying feature is the blueish gray base of its bill, which has a warty structure during the breeding season.
Diet: This goose feeds mainly on vegetation, including seeds, leaves, and roots of grasses and sedges. During winter and migration, they also consume grains and seeds from agricultural fields.
Reproduction: The Ross's Goose nests on the ground, often in colonies. The female lays a clutch of 2 to 5 eggs which she incubates for around three weeks. The young geese, known as goslings, are precocial – they can walk, swim, and feed themselves shortly after hatching, although they stay with their parents until they learn to fly.
Canada Goose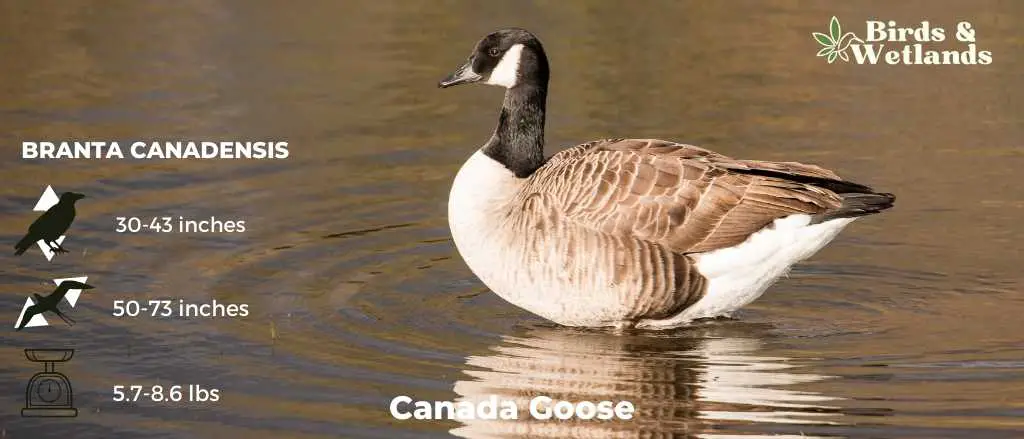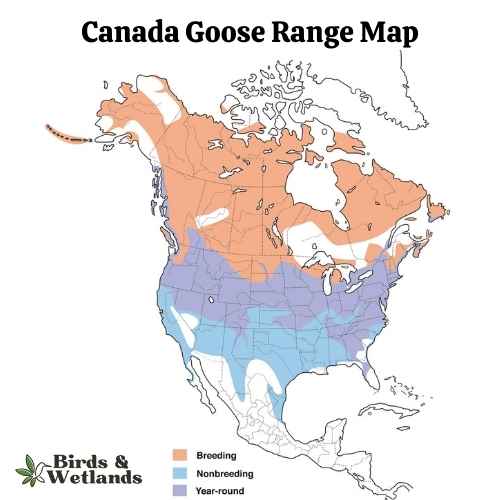 Canada Goose Sound
Scientific Name: Branta canadensis
Length: 30 to 43 in
Wingspan: 50–73 in
Weight: 5.7–14.3 lb
The Canada Goose is a large, well-known species of waterfowl noted for its distinctive appearance, familiar "honk," and migratory behavior.
Appearance: Both male and female Canada Geese have a similar appearance, featuring a black head and neck with distinctive white patches on the cheeks and chin. The body is primarily brown with a lighter, often white, underbelly.
Diet: Canada Geese primarily feed on plant matter, including grasses, aquatic vegetation, and grains. They can often be seen grazing in parks, lawns, and fields, as well as dabbling in water bodies.
Reproduction: Canada Geese typically nest on the ground near water bodies, often on islands or other isolated areas to avoid predators. The female lays a clutch of about 4 to 6 eggs, which she incubates alone for around a month.
There are Giant and interior subspecies of the Canada goose, with the giant subspecies makes the majority of the Mississippi delta population.
Can you shoot geese in Mississippi?
Yes, if you have a valid mississippi hunting license and have state duck stamps then you can hunt waterfowl in Mississippi. Geese are protected under the Migratory bird treaty act, however during the hunting season, you can have a snow goose hunt, subject to a daily bag limit, during the Canada Goose season, the season typically occurs from September to February.
Goose hunting is a popular pastime in the state and guided goose hunting are available. You will need to check the updated bag limits and under federal law you must plug your shotgun.
What attracts geese to your yard?
Canada Geese are increasingly moving into urban areas and whilst they may look attractive, they can quickly become a nuisance. To deal with any nuisance geese, you must contact the US Fish and Wildlife service for a removal permit. Tall vegetation between your pool and yards can reduce the problems with geese.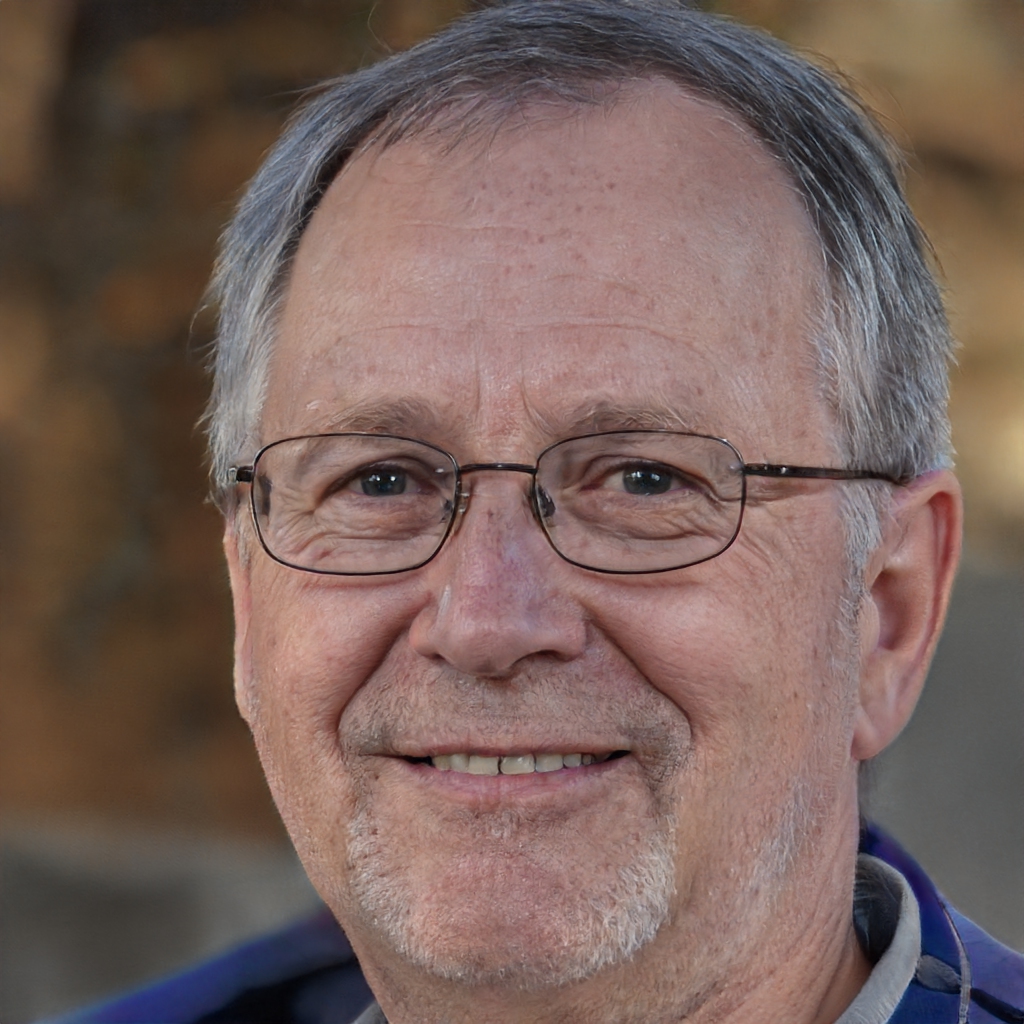 Jim Addison is an avid bird watcher and has been obsessed with the activity since he was a young boy.
He has traveled all over North America in search of new and interesting species to observe, and his detailed knowledge of the subject makes him a sought-after expert on the topic.